Let's learn the basics of how to make a band website, and why this is so important for unsigned and indie bands.
Figuring out how to make a band website probably seems like a massive undertaking. But thankfully, band websites are easier and cheaper than ever to make these days. And having a good website can go a long way toward helping you connect with fans, book gigs, find managers and agents, and even score recording deals.
You don't need to learn programming to make your band's website, either. You just need to be patient and have a willingness to look up tutorials online. The more you put into this project, the more your band will benefit from it. This Parlor City Sound guide will offer you a crash course on the basics, with enough information to get you started.
Why do you need a band website?
These days, every music act under the sun tries to capitalize on social media. And there's no denying how crucial that is to the successful promotion of your band. But your band's website can offer you exposure, connectivity with fans, and professional opportunities in ways no social media account ever could.
A band website allows you to:
Find new listeners and connect with fans
Introduce yourself to the public in long form
Showcase your music, videos, and photos
Promote upcoming live events and record releases
Sell music and merchandise
Publish and easily edit your band's EPK (electronic press kit)
Link all of your social media pages in one place
How to make a band website
There are two ways to go about making a band website. You could hire a freelancer to do it, but that's going to cost you money and it might not bring about the results you're really after. The alternative is to make the website yourself. And it's really not as challenging as it might seem.
To make a band website, you'll need to utilize a content management system (more on those in a bit). It's basically a glorified text editor—if you can use Microsoft Office or Google Docs, a content management system will barely be a step up from that. You'll need to invest in web hosting and register a domain for your website (that's the bit that costs money). And then you'll need to design your page, install plugins, and write everything you need on the various web pages. That last step is arguably the hardest and it will be a perpetually ongoing process.
Content management systems
Your first stop on your band website journey sounds way more advanced than it actually is: selecting a content management system, or CMS. "Content management system" is really just a fancy way of saying website building tool. It's basically software installed on a website's server that allows you to build the website and manage its content (text, photos, etc.), usually without having to do any programming.
There are a lot of CMS options to choose from. You could literally spend hours or even days trying to sort through them all. But having worked as a professional content writer for the better half of my life, there's really only one platform I feel comfortable suggesting: WordPress. It's what Parlor City Sound was built with, and in my world of glorified blogging, it's the industry standard, whether you're making a band website, a personal blog, or writing content for a Fortune 500 company. I've done all of the above, and WordPress is the CMS I personally think is best suited for those jobs.
WordPress is free. It's popular, so there are endless tutorials that can help you navigate the platform. It's also easy to use, quick, and scalable. I very highly recommend it. Other options you might want to look at include Wix, Squarespace, and Weebly. There are also companies that specialize in band websites specifically, like Bandzoogle and BandVista. Those last two options are more expensive, but they simplify a lot of this, and are even easier to use than WordPress.
Web hosting and domain registration
Next, we'll need to host the website somewhere and register a domain name so people can easily find it online. It sounds like we're wandering into treacherously technical waters, but don't worry. This part is easy too. Well, apart from trying to figure out what domain name your band should use, that is. That's something you'll want to discuss with your bandmates.
Web hosting will cost around $3 to $10 per month or more. If you decide to get your domain registration through the same company, you'll usually spend $20 to $30 per year (not per month!) or less. You can save money by getting your domain registration elsewhere, too. You'll just need to brush up on how to link up your hosting and your domain registration.
A lot of modern web hosting companies will install WordPress for you on your server absolutely free of charge, too. This is hugely beneficial, as it can be a bit of a pain to install WordPress, especially without any background in this stuff.
Important note: When getting a domain registration, be sure to select any available options to make your registration anonymous. You don't want your phone number or home address showing up on a WHOIS search!
Some of the popular hosting companies we recommend looking at include Dreamhost, Bluehost, Hostinger, GoDaddy, and SiteGround. Each of those companies will help you get a domain name, install WordPress for you, and answer questions you have along the way. There are cheaper options out there, but unless you want to dive into more technical stuff, this is the easiest way to make a band website on the cheap.
Setting up your WordPress
Once you have WordPress installed, you'll need to do some customizing to make it look the way you want it to look, and to structure out the various pages you want your website's visitors to see. This is the part where you may benefit from a bit of research, though if you're tech-savvy you should be able to navigate these steps on your own. WordPress is significantly easier to use than a DAW, so don't let this bit intimidate you!
We're not going to walk you through every step here, but we will say there are two areas where you'll spend the most time. The first, under the "Appearance" options in WordPress, is your website's theme. A WordPress theme gives your website its general appearance and format. There are countless free themes to choose from on WordPress. There are premium, paid options, too, if you want something a little more snazzy.
With your theme selected and installed, you can install some WordPress plugins. These are useful, mostly free tools that can help your website flourish in a lot of ways, from adding simple link buttons for your social media to more advanced stuff, like helping your website improve its SEO.
There are plugins and even whole WordPress conversions that can help you sell music and band merch direct from your website. Popular tools like WooCommerce make it easier than you probably expect to set up an online store and unload all of those t-shirts and beer cozies you overzealously invested in. And there are loads of free tutorials online that can walk you through even the most advanced WordPress features.
What is SEO? Do you need SEO for a band website?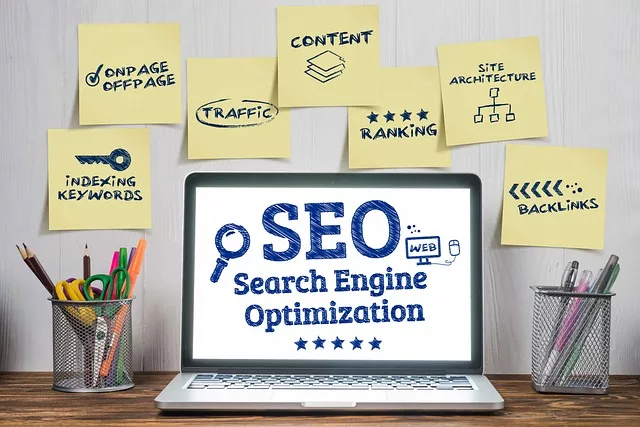 As you learn about WordPress or any other CMS you're using, you're going to frequently encounter the acronym SEO. And it's a phrase you should learn a bit about. SEO can drastically improve how many people are finding your band's website and, by extension, your band itself.
Search Engine Optimization, or "SEO" for short, refers to a set of common practices that help your website show up in search results better. You're optimizing your website so search engines can find it, gauge how valuable it is for potential readers, and then index every page of your website. Using SEO can be the difference between your band showing up on the twentieth page of search results, or being the #1 thing people find when they search. So it's pretty important!
SEO is a massive subject. Whole college courses focus on this one topic alone. We couldn't hope to explain it all to you here. But thankfully, you don't need to be an SEO wizard to put search engines to work for your band website. You'll want to understand what keywords are and what keyword stuffing is, and I highly recommend using an SEO plugin, particularly Yoast SEO.
Yoast is an extremely popular SEO tool, and the free version is perfect for a band website. Yoast will analyze your pages and provide you with recommendations on what you can improve to help the SEO along. Simply look at the SEO and readability tabs, check the analysis, and make all the little red and orange dots and frowny faces into green dots and smiley faces by following their recommendations. It's a great plugin and can help your band website a lot, without you needing to fork over a lot of money.
Finding and using keywords
Keywords are the bread and butter of the SEO world, and the only part of SEO tools like Yoast can't really help you with. So let's take a moment to go over what keywords are best to use, and how to find those keywords too.
Keywords are nouns, phrases, or full questions people are typing into search engines to find what they're looking for. Let's say you Googled "What kind of guitar did Jimmy Page play?" In this instance, all of the following are keywords:
Jimmy
Page
Jimmy Page
Guitar
What kind of guitar did Jimmy Page play
Knowing what keywords are, the trick now is to figure out what people are searching and then implement those keywords and phrases into your website. Some examples of keywords you should use:
Your band's name
The names of cities and towns where you're gigging
Venues you're performing at
Local references (for instance, in the city of Binghamton, "spiedies" or "carousels" or "Rec Park" are all keywords)
Finding keywords is pretty easy. You just have to type something into Google and see what other people are also searching for. If you want to be more precise, free online keyword research tools like Spyfu or question keyword tools like Answer the Public can provide a lot of great results. You could also pay for more advanced tools like SERanking (somewhat cheap) or SEMRush (how much do kidneys go for on the black market?). They'll definitely help you boost your website's traffic, but whether it's a justifiable expense is a whole other question, at least for band websites.
What pages does a band website need?
A website is only ever as valuable as the content it provides to its visitors. You can have the best SEO in the world, but if human people aren't getting anything out of visiting your page, what's the point? So as you build your band's new website, you should try to keep that idea in the back of your head. You want your band website to provide as much value as possible to visitors, and you should always want them to come back too.
Like your music, your band's website will provide endless creative possibilities. But here are some of the more standard pages your band website should have:
About: A long-form biography of your music act
Music: Embed your catchiest songs and share links to your profiles on Soundcloud, Bandcamp, Spotify, Apple Music, and other streaming services
Photos: WordPress tools make it easy to create and share a photo gallery of your band
Videos: You can embed and link to videos fans and bookers might want to see
Event Calendar: You can use free WordPress plugins to create and update an event calendar featuring upcoming gigs, record releases, and more
Electronic Press Kit: Does your band have an EPK? There's no better place to host it than on your band website!
Band Blog: Blogs allow you to communicate with your fans in a long-form way. You can pack your blog posts with valuable SEO. If anyone in your band has some writing chops, a well-maintained blog can overload your band website with value. Definitely consider it!
You'll get out of a band website what you put into it
We hope this Parlor City Sound guide was useful to you! Let's end here with a few hopefully useful tips:
Keep your website updated frequently, especially your events calendar. If you decide to incorporate a blog, try to post at least once or twice per week.
Definitely use keywords. A band website is great for connecting with fans and promoters, but it can also bring in new fans and promoters too. Putting a little work into the SEO of your website can attract new people to your band who wouldn't have ever heard of you otherwise.
Don't be stingy with your media. You should use your website to share music, videos, and photos. The higher the quality, the better, and there's no rule saying you can't share as much as you care to.
Promote the band's website, too! Post links to blogs and pages on social media. Put the URL on business cards and even band merchandise. Let your fans and professional contacts know that your website is up and running.
Link to your friends and ask them to return the favor. Backlinks are a valuable commodity in SEO. Link to the websites of other bands, and ask them to link back to your website. This helps both of your acts grow your SEO mutually!
Share your websites with us! We'd love to help promote your band and link to you whenever it's relevant. We'd love to share backlinks with unsigned and indie bands, so please drop us a line if you're down!