A lot of key decision-makers in the music industry expect to see a well-made electronic press kit from your act. Learn about electronic press kits here!
An electronic press kit, or EPK, is a sort of digital resume for your music act. They serve as a showcase of your band's music and style, and can help with everything from booking gigs to landing interviews to signing with record labels. Needless to say, your band needs to have an electronic press kit, and you need to keep it updated, too.
Bookers, managers, talent agencies, A&R scouts, indie labels, publications, blogs—a lot of key decision-makers in the music industry expect to see a well-made electronic press kit from your act, and some frankly won't work with artists or bands that don't have them. So let's learn about electronic press kits—what they are, how to make them, how to distribute them, and more.
What is an electronic press kit?
What is an electronic press kit, exactly? An electronic press kit, also referred to as an EPK or media kit, is a web page or a downloadable PDF document that contains text and mixed media (audio, video, and photos), as well as a bio, contact information. Your finished EPK can then be sent as a simple web link or file attachment to all sorts of important people, including …
Music venues, specifically whoever is in charge of booking gigs (bookers, management, owners, etc.)
Potential band managers or talent agencies you're considering signing with
Indie labels, either directly or through their A&R reps, depending on their submission guidelines
Magazines, newspapers, blogs, and other publications (including Parlor City Sound … we'd love to see your electronic press kits!)
Electronic press kits are essential tools for professional artists and bands. They can land you gigs, press coverage, and even recording contracts. And many music industry professionals will expect you to present them with an EPK at some point, too, so it's a good idea to make one and frequently keep it updated.
Old-school press kits are no longer in use, and we should all take a moment to be grateful for that. Back in the day, press kits were physical packages shipped through the mail, containing audio cassettes or CDs, VHS tapes, printed bios, press clippings, and more. It was annoying and expensive, and it would sting quite a bit when you'd send one out and never hear anything back from the recipient.
How to make an electronic press kit
A modern electronic press kit can be hosted online via your band's website—you simply create a page on the site where your EPK lives, add your music and video embeds (more on that shortly), and there you go, Bob's your uncle.
To make an electronic press kit, you'll need a band website (not just a social media profile, but an actual website) where you'll dedicate one page to your EPK. You should also create a PDF version of your press kit, too.
Next comes the hard part: building the electronic press kit from the ground up. Your EPK will include a lot of important components, including a bio, mixed media (photos, audio, and videos), and more. Let's go over the various components every electronic press kit should have.
Your music act's bio is a vital first step when making an EPK
Your band's bio should briefly explain who you are, what genre of music you play, and your general level of experience as a performer. Mention any relevant milestones or accomplishments here, too.
A very busy human will be reading this text. You want it to be appealing, but you should keep the bio in your EPK short and sweet, restricted to a word count of 200 words or less (preferably under 100, even). You can link to a longer version hosted elsewhere on your band's website, like the "About" section for instance.
Avoid goofy fonts and color schemes, too. It might seem on-brand to use a dripping-blood vampiric font in dark maroon over black, but that's not exactly legible and will likely result in the recipient of your EPK skipping over you with the finesse of a double Dutch champion. You should style your bio in a clean, digestible, professional manner.
Your bio needs to read well, too. Typos, poor grammar, spelling errors, etc. can be a big turn-off. Take your time writing and editing the material. You may also want to consider hiring a professional content writer or editor using a service like Fiverr or Upwork to clean up your bio and make it presentable, which should take them an hour or less.
Professional photos are a must for your Electronic Press Kit
Next, you should include several high-resolution, high-quality photos in your press kit. And we don't mean photos your friend snapped with their phone, either. You should work with a professional freelance photographer if you can afford to do so. You might find someone willing to work with your band just to improve their own portfolio, but otherwise you should expect to spend some money here.
Your EPK should include:
Close headshots of the full band together
Headshots of the singer/ front person
Photos of the band performing on stage
Photos of the band practicing and/ or recording
Professional images of the whole band all together in various settings
Five or six photos should do it. You could also include a link to a gallery with more. This is especially handy when reaching out to promoters, bookers, or media outlets who can use these images on flyers, in articles, etc. Be sure to update your photos once per year or thereabouts.
If your brand has a professional logo or any branding assets, you may want to include these here, but only if they're relevant to what the recipient may need.
Embedding music in your EPK
For obvious reasons, your electronic press kit needs to include music. And thankfully, there are lots of tools at your disposal that makes this easier to do than it might seem.
Most music streaming platforms (Soundcloud, Bandcamp, Spotify, etc.) and video services like YouTube allow you to copy an embed code. An embed code is a small portion of programming code you can copy and paste directly to your web page to display media hosted elsewhere. You'll usually find an embed code listed as an option under the "share" menu on any of these services.
As an example of an embed code and what it might look like, here's the song Lay Like You Do from one of Binghamton's most celebrated bands, Driftwood. Looks pretty cool, right? And the music plays right there in your browser; there's no need to go and download extra tools or subscribe to a service, which 999 out of 1,000 recipients of press kits will never, ever do. And we're using Spotify, too, because it's a very popular service and the odds of an EPK's recipient having a Spotify account are quite high.
Again, the people you're sending your electronic press kits to are busy. They probably get a lot of EPKs and spend a lot of time listening to songs. You should aim to impress a potential listener in the first ten to twenty seconds of the first track you share. If they stop listening during that window, the odds of them trying the second song are pretty low.
We recommend embedding two or three songs. And if you haven't done any recording yet, consider checking out our home studio recording guides for some useful tutorials and general tips.
Related: How to record a full band for as little money as possible
Embed some videos, too!
Embedding videos is just as easy as embedding music, and it can go a long way toward impressing the people you're sending your EPK to. While professional video would be nice, simply having a friend film a show on an upscale modern phone will do the trick here. Especially if you can overdub that video with soundboard audio from your friendly neighborhood venue engineer.
You should try to include at least one video of a live performance, preferably showcasing positive crowd reactions as well. Adding three or four videos is better, especially if those videos either correspond with the songs you've included in your demo songs, or they're entirely different and showcase your band's range.
Achievements and press coverage
It's okay to skip this step. Note every band has achievements worth listing (yet!), so consider this a bonus point situation. Achievements should include anything recent that might seem impressive to the recipient. This might include things like:
Album releases
Performances at music festivals or opening for noteworthy acts
TV appearances
Awards your act has been nominated for or won
If you've had press coverage, you should include a few flowery quotes from those articles here as well, and link to the articles if that's an option.
Social media links
This one is pretty self-explanatory, but we should mention this: Don't link to personal social profiles, even if you're a solo artist. Your act should have its own unique, standalone social media presence. Be sure to include links to your act's profiles here. You should also include a link to your band's website, even if your electronic press kit is hosted on that website. It's convenient for someone to be able to quickly click a link or copy and paste it.
Including stage plots and tech riders in your EPK can have benefits, too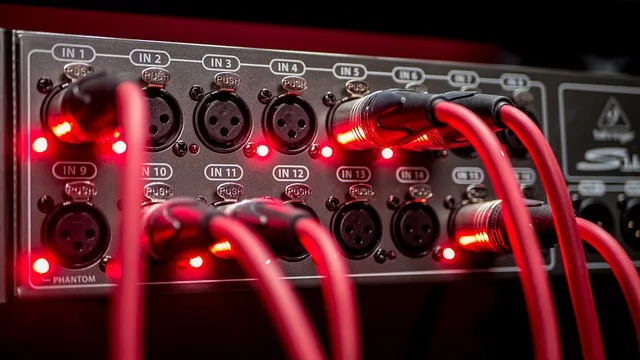 Including links to stage plots and tech riders aren't especially mandatory for most of the people seeing your electronic press kit, but they're certainly helpful for event and festival organizers, and shows at venues large enough where your drum kit might get miked.
A stage plot is a simple diagram that maps out where everyone and everything is located on stage during a performance. This helps organizers and stage managers figure out how best to accommodate your band and the other acts in the lineup.
You can find stage plot tools online and various apps that can help on both Android and Apple devices. You could even make one yourself using something as simple as MS Paint. This doesn't need to be an artistic masterpiece or anything. It's just really useful when you're trying to book a bigger show, and some organizers might request one in advance, so it's nice to have it ready to roll.
Tech riders are detailed lists of microphones and other equipment the band hopes to use on stage. It might include, for instance, a list of all of the drum mics and which channels on a stage snake they're running into, plus mics for amps/ cabs, outboard effects, etc. These are sometimes requested by larger venues as well, so it's nice to have them prepared in advance.
Your EPK needs your band's schedule (and you need to keep it updated!)
Modern electronic press kits should include a frequently-updated list of upcoming events your band has already booked. Gigs, festivals, promotional events, recording sessions, planned vacation time—if your band is or isn't working on a particular day, include it here.
You're not listing off these events in the hopes someone will go to them. This is simply a matter of showing people your schedule and defining how busy your band is so a promoter doesn't attempt to double-book you. Some acts forget to keep their EPK schedule updated or worse, they don't even include one at all. Your EPK needs to not only have a schedule, but you guys really need to keep it updated frequently.
Last but certainly not least, your contact information
Your band's contact information is inarguably the most important thing you'll share in your electronic press kit. You can stun a promoter with your awesome music and those cool band photos you took of all of you sitting on some rocks in the middle of a field (why are you all looking in different directions?), but are they going to be wowed enough to open a new tab and Google you to figure out how to get in touch with you? Usually not.
You should include at least one email address where someone can reach the band or your management. You can include phone numbers as well, though it's not entirely necessary and might expose you to unwanted spam calls. Instead, include phone numbers and additional contact information in the email you're sending out the press kit from. Don't include any sensitive information here, like your home address. That's generally a bad idea, and if they want to send you something they'll surely contact you first and ask for a mailing address.
If you find that building your band's website was relatively simple, you might want to look into plugins that let you make contact forms. This will allow website visitors and people browsing your EPK to contact the band directly via the form, without having to open new tabs and send out emails manually.
Your band's electronic press kit should be well on its way!
Making your band's electronic press kit may seem a bit intimidating at first. It involves making a website, gathering all sorts of media, copious amounts of resume-style writing … it can be a lot to take on. And with so much riding on getting your EPK right, this process can get stressful fast.
The important thing is to treat this not like a task, but like a project. There are a lot of moving parts involved in building your EPK, and no one can or should do all of this in one sitting. Take breaks. Step away from this and come back after you've refreshed. If you're in a band, delegate tasks accordingly and spread out the work amongst everyone.
We hope all of this information is useful in helping you create an electronic press kit for your music act. And hey, feel free to send us links to your finished EPKs when they're done. We'd love to see what you create, and hey, maybe we'll get chatting and cover your music here at Parlor City Sound. That ought to help you with adding some press coverage at least!